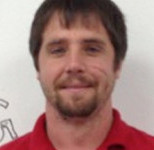 Dustin Snodgress
Assistant Center Director
Dustin has always had a big passion for Mathematics. He pursued the application of mathematics by obtaining an AAS in Electronic Engineering Technologies. He worked as an Engineering Laboratory Technician at a major local engineering firm for six years, and eventually as an Electronic Engineer at a manufacturing company.
Dustin never stopped attending college and worked towards a Bachelor's degree in Mathematics. He is a member of the Mathematical Society of America.
Dustin started working at Mathnasium as an instructor in August 2014 and fell in love with the Mathnasium way. He believes learning math is more than just learning arithmetic. Learning math also trains the brain in deductive reasoning, thinking constructively, and problem solving. This can be seen as students who attend Mathnasium often see improvements in other subjects as well.
Dustin loves disc golf as a past time and also mountain biking (his dog loves running along!). "While the wonders of mathematics amaze my mind the most, I'm also a fanatic for physics, enthusiastic about the universe, and crazy for the cosmos."
New fun facts about Dustin: I landed a 180 backside boardslide on a rail, rotating to a frontside, dismounting with a 180, completing a 540 rotation in total. (What was that again?) Every winter, I build 2 quarter pipes with a fun box & rail for a small backyard terrain park.
Goal: To continue to get better at math. I am studying the Mathematics behind Einstein's Theory of General Relativity and also Quantum Mechanics to help understand Life, The Universe, and Everything. (42)