Our Results
At Mathnasium, we help kids understand math by teaching the way that makes sense to them. Children who consistently attend sessions at our learning centers enjoy a transformative learning experience and make huge strides in the classroom.
Attitude: When math makes sense, kids develop a more positive attitude toward math.

Understanding: Mathnasium teaches for understanding, giving students the ability to succeed in any math environment. As Larry Martinek, Mathnasium's Chief Instructional Officer notes, "It's pretty easy to forget things you memorize and near impossible to forget things you understand."

School Progress: When kids learn math in a way that they truly understand, they achieve greater success in the classroom.
---
See what people say about Mathnasium

Congratulations to Priya for Perfect Score in Geometry Regents of June 2019
It was great experience to teach some students prepare for John Hopkins Program for entrance exam.
Congratulations to Chokita for Perfect score in Algebra 1 Regents of June 2019.
Congratulation To Nikhitha Ravi For Perfect Score in the Finals of 6th Grade 2018
Congratulations to All Mathnasium Students who passed. :)

1. "What is your favorite thing about Mathnasium"? A second grader says that "It is fun here learning Math". Wow!!

2. Here is what our 5th grader replies to the same question - "I get to learn new things". He also adds that his confidence level has gone up.

3. Here is another 5th grader replies to the same question "I like getting stars after finishing my assignments here".

4. Another 5th grader replied to the same question "The teachers who teach me" and he says that "I love coming here as it's like my 2nd house". Wow!!

5. A 3rd grader says that learning Math here is fun and he also likes playing Mathnasium games*.

6. A 6th grader says that he learnt a lot coming here. He likes teachers in Mathnasium and he also says....It is the best Math place in the world...Wow!

7. A 4th grader says that he learnt factors, multiplication and fractions here.

8. A 7th grader says that "I am getting better grades in Math class".

9. An 8th grader replies, "

Coming here has really improved my grades and all the instructors are really nice"

My son has been attending Mathnasium of levittown for the past months due to failing grades. He has ready improved and very thankful to Mathnasium for helping him to pass his exams and help boost his self confidence.

Congratulations to Senuli.
Thank you Nilma Nanayakkara for your feedback. Much appreciated
🙏🙏

Senuli won the Silver Medal at the finals of the Long Island Math Fair held at Hofstra University. Thank you for making sure that she is challenged and made to think when she's at Mathnasium.

Congratulations to Mihir Goyal for the hard work in Math Kangaroo!!

Congratulations to all our high school students for their Regents Performance!!
Congratulations to some of our top performer students of 2017!!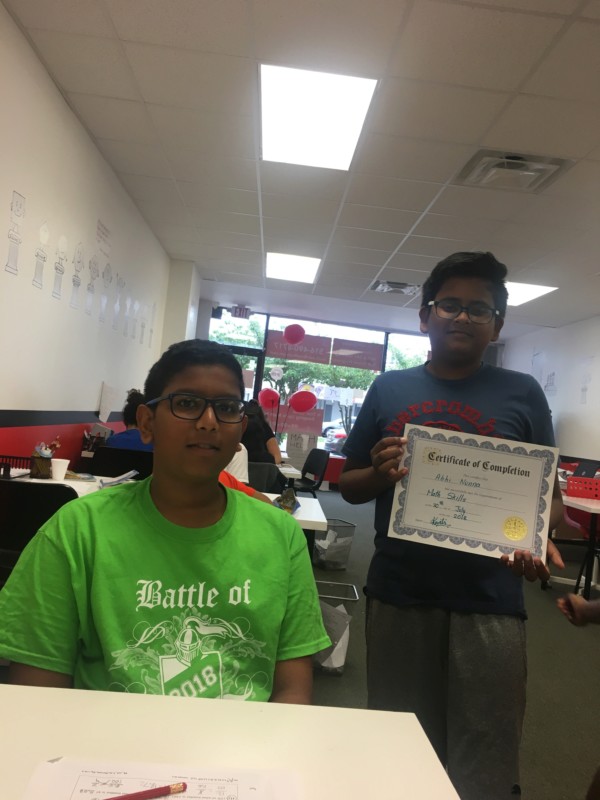 Names of Above students:
Top/First row: Afet, Abdulsami, Tanisha, Sameer
Second row: Mihir, Amaan, Senuli, Lisali
Third row: Evangelina, Armaan, Ruchika, Shruthika
Fourth row: Lucas, Nikhitha, Eben, Christopher
Fifth row: Seja, Arianna, Akshar, Harshal
Sixth row: Mihir, Abhi, Aditi, Chaitra
Below are some of parents' feedback about our services and team!!
Thank you Kasia Sobota for your sweet words.
My kids are begging me to take to Mathnasium.
Thank you Minal Mehta for such a great response..
It makes a lot of difference who runs the Centre though. Most places has teenage kids running it but at Levittown Centre Kavita is always there and pay special attention. She teach math while playing games and always go extra mile then she have to. Best part is my son loves it too.
Thank you for the feedback Ayaz Kerimova
I think my granddaughter Afet Kerimova is getting better . So , I think you are doing a good job .Thank you.
Thank you for the feedback Margie
I put my daughter in Math tutoring @ Mathnasium with Kavita Chandra in Levittown. She went from getting 40's to 86; best decision I ever made. I thank them and if your looking for a great math tutor this is the place.
Thank you Melissa :)
I've only enrolled my son a month ago and I already see a big difference. I appreciate that the staff even goes beyond to help children in other areas of subjects. My son has gained interest again in math and has also gained confidence in test taking.
Thank you Kim Nieves for such a thoughtful review :)
This place is amazing. My daughter had an issue with math and just couldn't grasp it. She was just hanging on by a thread all school year. With her math regents coming up I needed to do something more the extra helps in school were just not working. My daughter started coming here and I started seeing improvement after her first test grade. Within 1 month, just 4 weeks of coming here my daughter's grade went from a 65 to an 80 and my daughter passed her math regents. The staff here are unbelievable. They helped my daughter so much she felt comfortable with them and if she didn't understand something they explained it a different way , different ways until she got it until it clicked. And that's what she liked and that's what she needed. The owner is a very lovely women who understands that some kids really are struggling and she does what she can to help. And that's what makes this place very different from other tutoring places. I also like the fact that they have snacks for the kids so if there hungry while there their with the tutors they can have a lil something. Math is hard and it's stressful not to be able to get it and the owners here try and make an environment for the kids where they can learn at ease and I think that's great. I recommend this place to anyone who has kids struggling with math. You will def see an improvement in there grades. I am very happy with this place.