Events
---
We will be launching a new Facebook Live event series May 4th-8th. The goal of the series is to support parents who are looking for productive ways to keep their kids learning while schools are closed and to generate more awareness for Mathnasium@home.
The series will be hosted by Chief Instructional Officer, Larry Martinek, and Education Field Specialist, Sandra Zietara.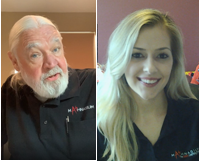 The upcoming schedule for this week includes the following that will air at 2 p.m. ET each of the following days:
---
Math Kangaroo Workshop for Grades 1st – 6th
Nov. 17th, 2019 to Jan. 12th, 2020
After Registering for MK 2020 Competition you are looking for some help then access MATH KANGAROO WORKSHOP for Registration (workshop is conducted by Mathnasium of Mt. Lebanon) .
Check at our center for more details about Math Kangaroo Workshop for Grades 1st - 6th.
---
March 19, 2020 at Mathnasium of Mount Lebanon
Registration available Sept. 15th - Dec. 15th, 2019
Now you don't have to travel too far... This year you can come to our center that is located at the intersection of Cochran Rd. and Cedar Blvd. near South Hills neighbor. Isn't that exciting!!
Click link below to register at Math Kangaroo site
https://mathkangaroo.oasis-lms.com/Public/Catalog/Home.aspx
What is Math Kangaroo?
Math Kangaroo in USA was started by Maria Omelanczuk in 1998, at the Sobieski School in Chicago. The annual event was developed from the world-renowned math competition that began in Australia back in the 1980s (this is why it is now called "Math Kangaroo") . The various countries that take part in these competitions work together every year to choose which questions will be included on the exam; however, results and prizes are currently only determined on a national level.
Math Kangaroo in USA has five main goals for its competition:
Encourage students to master their math knowledge
Give students confidence in their ability to comprehend math
Help students understand how math can be applied to the physical and social world
Develop students' ability to gain enjoyment through intellectual life
Show that math education is important to EVERY area of the world
Please visit mathkangaroo.org for more information on this competition and its rules & regulations.
Copyright © since 2003 Math Kangaroo in USA, NFP Inc., All rights reserved.
---

---
---
Why Choose Mathnasium for Your Child
---
---
Please visit our Mathnasium Facebook Page to find out more about Upcoming Events!
Check for Word Problems and Mental Math Questions posted everyday
Like Our Page & Keep Your Mind MATH Sharp!
---
---
PTA + Mathnasium = Awesome MATH NIGHTS
We put the "M" in STEM for the STEM+Families initiative! Mathnasium of Mt. Lebanon is proud to announce that we have joined forceswith National PTA as a partner in PTA's nationwide science, technology, engineering and math (STEM) education and familyinitiative. We are and will continue to be enthusiastic supporters of community schools and parent leader organizations for the benefit of all students.
I'd love to discuss how we can support your 2019-2020 goals. Please let me know when a convenient time might be to reach you.
Call us to schedule a Math Night event at your school! (412) - 213 - 8696
---
Have an upcoming school fundraiser or sponsorship event?
Have a special event at your school? Tell us about it! Contact Meenakshi, our Center Director, to discuss how we can be a part of your team and fundraising effort. We are community and school focused and would love the opportunity to partner with your campus. Meenakshi can be reached at MountLebanon@Mathnasium.com.
---
Past Events

Join us May 11, 2019 at Open House.
We are open to local community on the occasion of our first year anniversary!!!
Oh Yeah - we have served locally for a year now.
Come with grandpa, grandma, mom, dad, aunt, uncle, sis, bro, friend for fun/food/giveaways. A MUST to not miss it.
This is a FREE event.
---
STOCK THE FRIDGE!!!
We are stocking one lucky school's refrigerator.

We had a contest played by the local community. The contest is to mention your school. The school most commented by parents recieves the stock of treats from Mathnasium of Mount Lebanon, the treats thats fills their fridge.
... and the maximum comments received for Chartiers Valley Intermediate School, CVIS...
Thanks you teachers of CVIS school for your best service to the community!!
#GIVINGTUESDAY
Know more what parents said for such a great school and its teachers. We are proud to have you in our community.
https://www.facebook.com/901505583334255/posts/1450811921736949?sfns=mo

#CVSDIntermediate