Our Team
Our specially trained math instructors will teach your child how to understand math in an individual setting; our unique approach enables us to explain concepts really well and lend a helping hand to every student. Our tutors foster a caring, encouraging environment that helps kids thrive and learn! Read below to learn more about our talented team:
Alyssa - Assistant Center Director
Alyssa has had a love for math for as long as she can remember. She loves helping other students understand the concepts of math, and enjoys the satisfaction that a student gets when they begin to understand. Alyssa wishes to put her love for math and teaching others to good use and become a primary school, or high school math teacher. During her free time, Alyssa enjoys traveling to new states and countries so that she can experience new cultures and perspectives. She also enjoys practicing and learning new music on her saxophone. Alyssa is currently enrolled at California State University, San Marcos where she is working on getting her Bachelor's degree in Mathematics.
Christian - Assistant Center Director
Christian is your friendly neighborhood instructor who has a passion for learning and helping others in any way possible. His love for math can be traced back all the way to his early middle school days when he was first introduced to the wonderful world of numbers. Aside from the fact that math is the universal language, he loves math because the subject always gives him a challenge to overcome. He has always loved Mathnasium and has been part of the Mathnasium family for over 2 years. Spot Mr. Christian around town as he will be at any Mathnasium event!
Christian studies at the University of California, San Diego where he is pursuing a double degrees in Mathematics-Secondary Education and Education Sciences. He someday hopes to become an educator and help inspire kids to build confidence in their own skills. Outside of Mathnasium, you can find Christian with a pencil in hand, creating a new masterpiece binging on TV shows and movies, or working in schools in underserved communities. Christian is always eager to help each student with tricky concepts and furthering their understanding of the math that they are working on in class.
David
We welcome David into the Mathnasium family. His enthusium for mathematics stems from its power to describe the world precisely and with great utility which is not always easy to understand when first exposed to it. This is precisely why he enjoys instructing mathematics. David graduated from the University of California, San Diego where he attained degrees in mechanical and aerospace engineering. He wishes to continue instructing mathematics and STEM subjects in his spare time. Outside of mathnasium, David enjoys performing music and programming flight simulations in MATLAB.
Deanna
Deanna has a love for working with children all her life. Deanna currently is an undergraduate at the University of California San Diego, studying Education Science and a minor in Philosophy. She is also hoping to pursue a Master's in Education too. In her free time, you can see Deanna hiking, reading, making the most awesome crafts, and shopping around town!
Ever since elementary school, Deanna has always known she wanted to become a teacher. It wasn't until middle school that she realized what kind of teacher she wanted to be. She was inspired by her radical math teachers in middle (who our other instructors Dylan and Christian had too!) who helped her realized her love of math. Those teachers had influenced her inside and outside of the classroom and hopes to influences others as much as they had to her!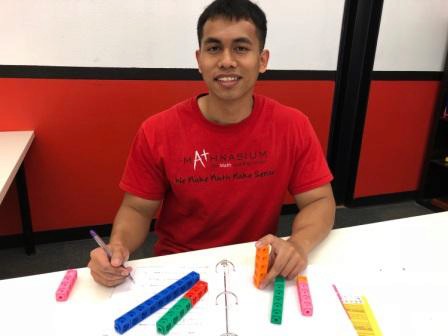 Derrell
Derrell was born and raised in southern California in a small town called Redlands and is currently pursuing a bachelors degree in Aeronautical Engineering at San Diego State University. Derrell has a significant adoration and appreciation for the topic of mathematics as a translation tool for the world around him. When not in the Center, at school or studying, his hobbies include hiking, watching sports, and playing video games. Derrell's dream is to someday design aircraft capable of both space and aviation flight. Until that time, Derrell enjoys sharing his mathematical knowledge, tips, and tricks with students at every level and Mathnasium is the ideal outlet for providing all of the tools necessary for student success. His goal is not only to instruct students, but to convince them that the topic of mathematics is a fun and fascinating subject worth exploring.
Diorah
Diorah is currently a student at San Diego State University working to earn her Elementary School Teaching credentials with a focus on mathematics. Last year Diorah was selected for the Dean's list for the College of Education and is a member of the Weber Honors College at San Diego State University.
Her love of math is grounded in the real world; she sees the need for math all around her. She is passionate about shaping the minds of the future and is thrilled to be an instructor at Mathnasium where she can have a direct impact on students each day.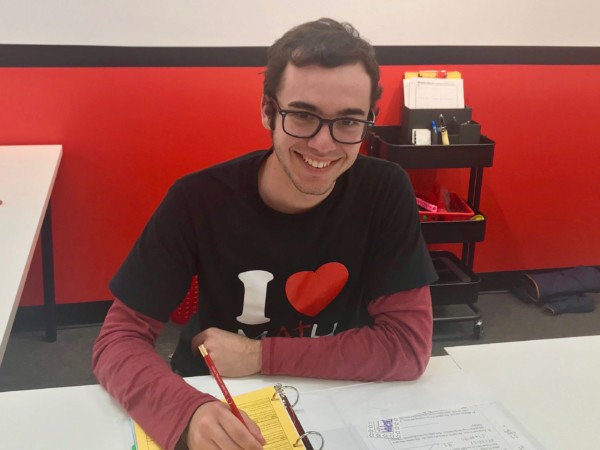 Dylan
Dylan goes to UCSD and is majoring in Data Science in hopes of specializing in Cognitive Science. Dylan lived in a daycare and has over 10 years of experience with kids. He considers himself a bit of a nerd who loves math and computers. Dylan likes to spend his free time outdoors pursuing activities like camping, hiking, and skiing as well as having a fondness for music, movies, and baking. He is excited to join the Mathnasium team!

Emma
Emma knows first hand the power of a great teacher; her love of math blossomed with the guidance of a dedicated and inspiring algebra teacher. Emma enjoys helping others overcome their fears as they struggle with math, eventually turning math from something scary into something beautiful.
She has been part of the Mathnasium family since her junior year of high school and currently attends the University of California San Diego as a Mathematics-Secondary Education Major. She hopes to inspire young women to enter STEM careers. She aspires to earn a masters degree in liberal arts education and math in order to one day become an algebra/pre-calculus teacher for high school students. Emma enjoys singing, reading and getting a good workout as she is part of the Sixth College Student Council representing the voice of her peers. Her passion for making others smile and telling corny math jokes makes her a favorite member of the Mathnasium family.
Juju
Growing up with a math professor and a statistician as parents, math has always been an important part of Juju's life. She carried this with her into college as she pursued a double major in mathematics and ballet at the University of Cincinnati. Following graduation, she moved across the country to San Diego to dance professionally with the San Diego Ballet. Juju is excited to have the opportunity to continue pursuing both of her passions here in San Diego as a part of the Mathnasium team.
Kate
Kate hails from Burbank in Los Angeles. Kate currently is a student at University of California San Diego where she studies Applied Mathematics. She is hoping to become a professor in a university as a career. Kate grew interested in math after taking her first math class in high school and acing the class! She loves how math can have a right or wrong answer yet how math can be approached in limitless ways. She is always continuing to learn more about mathematics and the logic behind it.
Outside of mathnasium, you can see Kate painting, binging on TV shows, and trying out new things. You can also spot Kate at the nearest arts and craft store near you. Kate's philosophy is to always explore new things and always investigate new hobbies!
Lantz
Lantz is a native San Diegan so he knows his way around the city. Right now, Lantz is currently attending UC San Diego majoring in Electrical Engineering. Lantz is a forever learner, wanting to learn about anything, whether it be music, science, amth, culture, cooking, etc. Lantz's ultimate goal here at Mathnasium is to ensure that every student will enjoy learning as much as he does.
Maurice
Maurice was born and raised in San Bernardino, California. He received a Bachelor's Degree in Computational Mathematics and Physics from University of California Santa Cruz. Currently, Maurice is pursuing his Master's Degree in Applied Mathematics - Nonlinear Dynamical Systems and Chaos Theory at San Diego State University.
When is not doing all sorts of mathematical work, you can expect Maurice researching Data Analysis and experimenting with physics as a Graduate Researcher. Outside of work, Maurice is an avid traveler to where he is currently eyeing Honduras, New York, and Australia.
Micheal
Micheal is just a guy who enjoys exploring the relationships between various things whether it is people, bacteria or even better: numbers! From his elementary school days, to college at UCSD, to his current graduate studies in Bioinformatics, Michael uses the tools of math every day to better understand the world. His hobbies include exploring new places and reading; pretty much anything that can stimulate the imagination. In the future Micheal wants to use the combination of math, computer science and medicine to investigate diseases and to create new technologies. He sees teaching as a great honor and an even greater responsibility to pass on his understanding to others and believes that Mathnasium is the perfect place to do so.
Tamara
Tamara enjoys being a part of the learning experience. She feels it is very rewarding to witness a student's moment of sudden insight when they learning a new concept. She is excited to be working with the students at Mathnasium and experience many of these moments. She currently attends UCSD and is pursuing a degree in chemical engineering. She also enjoys listening to and playing sonatinas on the piano.
Trey
Trey has always been more passionate about math than any other subject. He enjoys explaining math to anyone who will listen and has always been the first to volunteer when a peer needs help. Trey believes that the best feeling is when someone whom he assists begins to understand and succeed.
Trey is currently a Senior at Point Loma High School where he runs an SAT/ACT tutoring club. Outside of the classroom, Trey competes at hurdles and pole vaulting on his track and field team, volunteers around the city, and spends time with his friends. Trey currently has a plan to get a bachelor's degree in aerospace engineering in college, where he hopes to grow his math knowledge.
Valeria
Valeria has always loved math because "it just makes sense, and it is very precise." She also enjoys helping others understand and love math as much as she does. Helping someone understand math is something that she really enjoys doing. Out of Mathnasium, Valeria plays water polo for Steele Canyon High School and loves to swim in general. Another activity is watching movies and listening to all sorts of music. She loves being in San Diego and hopes to stay local with a goal to attend UC San Diego for college.