Our Team
Our specially trained math instructors will teach your child how to understand math in an individual setting; our unique approach enables us to explain concepts really well and lend a helping hand to every student. Our tutors foster a caring, encouraging environment that helps kids thrive and learn! Read below to learn more about our talented team:
Dacia
Dacia was born in New Mexico and mostly grew up there before moving to California permanently. She discovered her love for teaching and math in high school when assigned to be a peer tutor to her classmates. When she saw her friends who had previously struggled, regain their confidence in their ability to learn and grow, she knew this was what she wanted to do with her life. Her favorite parts of math are patterns and algorithms, and figuring out why things work the way they do. She hopes to pass on her enthusiasm to the kids she works with. Dacia is currently working on her Bachelors of Mathematics at San Diego State University, with an emphasis in computer science. In her free time, she enjoys playing video games, hanging out with her cats, and listening to music.
Deanna
Deanna has had a love of working with children all her life. Deanna currently is an undergraduate at the University of California San Diego, studying Education Science and a minor in Philosophy. She is also hoping to pursue a Master's in Education too. In her free time, you can see Deanna hiking, reading, making the most awesome c
rafts, and shopping around town.
Ever since elementary school, Deanna has always known she wanted to become a teacher. It wasn't until middle school that she realized what kind of teacher she wanted to be. Her teachers have influenced her inside and outside of the classroom and she hopes to influence others in the same way!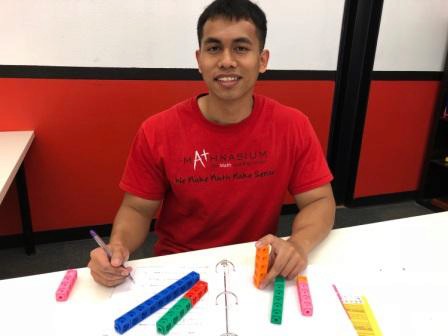 Derrell
Derrell was born and raised in southern California in a small town called Redlands and is currently pursuing a bachelors degree in Aeronautical Engineering at San Diego State University. Derrell has a significant adoration and appreciation for the topic of mathematics as a translation tool for the world around him. When not in the Center, at school or studying, his hobbies include hiking, watching sports, and playing video games. Derrell's dream is to someday design aircraft capable of both space and aviation flight. Until that time, Derrell enjoys sharing his mathematical knowledge, tips, and tricks with students at every level and Mathnasium is the ideal outlet for providing all of the tools necessary for student success. His goal is not only to instruct students, but to convince them that the topic of mathematics is a fun and fascinating subject worth exploring.
Debra
Debra has a Bachelor's degree in Teacher Education from The Master's University. She is currently working on her Multiple Subjects teaching credential with Point Loma Nazarene University. Teaching has always been a passion of hers, and she is beyond excited to be running her own classroom soon.
She dreams of creating her own children's books and going overseas to teach abroad. She understands math to be a difficult concept and loves the moment when it finally clicks for a student. More than just teaching students to understand math, she wants to show them how they can use it to explore the world we live in. In her free time, Debra loves to paint, read, play video games, and go to the beach with her dog, Tesla.
Dev
Dev enjoys working at Mathnasium because he enjoys teaching and sharing his knowledge and love of math with students. He believes everyone should learn math as it is a very useful topic - especially because you can apply math to almost everything. Dev enjoys playing video games and learning about space. One day he hopes to work at JPL or SpaceX because he loves space and wants to help humans reach for the stars.
Grace
Grace is originally from Phoenix, Arizona, where she worked at a different Mathnasium center before moving to San Diego to attend college. Currently, Grace is a freshman at the University of San Diego. She is on the pre-physical therapy pathway, majoring in anthropology and minoring in biomedical ethics. Grace has danced throughout her life and is on the university's dance team, Go Toreros!
Grace has always enjoyed math, taking up to calculus courses in high school. She greatly enjoys working with kids and seeing them light up when they understand a math problem. Grace loves working at Mathnasium where she gets to help grow student's confidence in their math abilities.
Jonathan
Jonathan graduated with a Bachelor's degree in Applied Mathematics from San Diego State University. While he tutors here at Mathnasium, he is also working towards a career in software development in the financial sector. He loves to tutor students since he loves to teach and talk about mathematics. In his spare time, he enjoys recording and composing music.
He hopes to inspire students to shoot for the stars and to not be afriad of aiming high. Moreover, Jonathan wants to help instill confidence in students' ability to problem solve.
Juju
Growing up with a math professor and a statistician as parents, math has always been an important part of Juju's life. She carried this with her into college as she pursued a double major in mathematics and ballet at the University of Cincinnati. Following graduation, she moved across the country to San Diego to dance professionally with the San Diego Ballet. Juju is excited to have the opportunity to continue pursuing both of her passions here in San Diego as a part of the Mathnasium team.
Kieran
Kieran plans to attend Harvey Mudd College in the Fall of 2021, where he hopes to pursue mathematical and computational biology in a joint-major program. When he isn't mulling over open ended math problems ("what triangles can be divided into two isosceles triangles?" is his current favorite), you might find him reading, writing, running, drawing, or cuddling with his three cats.
While it might be difficult to discover, he believes there is an inner mathematician (and a prodigious one at that!) in everyone. Like the high school teachers who helped him, his goal is to help students find their inner mathematician, and develop the comfortability, curiosity, and excitement required to explore the wonderful and wide world of mathematics.
Kobe
Kobe is currently a student at San Diego State University and is working on his degree in Aerospace Engineering. Kobe is from a small town called Lake Elsinore which is located in between Los Angeles and San Diego. He found his love for math while he was a freshman in high school. This is where he met his geometry teacher who loved showing his students the real-world applications of all of the things they learned about in class.
While at Mathnasium, Kobe hopes he can help kids learn about the amazing possibilities that math provides for the real world. Kobe is determined to one day be in charge of a major engineering project that involves helping people land on Mars!
Robert P.
Robert is a San Diego State University alumnus with a Bachelor's degree in Biology. He began tutoring middle school students in mathematics and robotics back when he was in high school. Robert tailors his explanations of math concepts around the interests and hobbies of his students so that the ideas are easier for them to visualize and reflect on.
In his spare time, Robert studies the history and culture of the Kumeyaay, an indigenous people of San Diego. He has studied the mathematics used by the Kumeyaay as well, did you know that the Kumeyaay originally used a base-five numeral system?
Tamara
Tamara enjoys being a part of the learning experience. She feels it is very rewarding to witness a student's moment of sudden insight when they learn a new concept. She is excited to be working with the students at Mathnasium and experience many of these moments.
She currently attends UCSD and is pursuing a degree in chemical engineering. She also enjoys listening to and playing sonatinas on the piano.
Toloue
As a current senior at Point Loma High School, Toloue takes Calculus II as dual-enrollment and appreciates the mathematical beauty that is concealed within its complexity. Upon graduating, she plans to major in Applied Mathematics at UC Berkeley, where she also hopes to pursue other passions.
In continuing on her path at Mathnasium, she aspires to inspire and reinforce the value of hard work, through which almost anything is attainable.
Valeria
Valeria has always loved math because "it just makes sense, and it is very precise." She also enjoys helping others understand and love math as much as she does. Helping someone understand math is something that she really enjoys doing.
Outside of Mathnasium, Valeria plays water polo and loves to swim in general. She also loves watching movies and listening to all sorts of music. She loves being in San Diego and hopes to stay local by attending UCSD.
Vincent
Vincent works at Mathnasium because he loves to teach younger students math. He believes one of the most important factors in a student's success is their influences, and having someone older they can be comfortable with to mentor them is essential. He realizes that math fluency is one of the keys to such success. Math, as much as some want to deny it, is needed in our daily lives. Vincent is involved in his school newspaper and a few clubs. He also loves to watch movies and play video games. He strives to get accepted into Stanford or a UC school and intends to major in biology.