Our Team
Our specially trained math instructors will teach your child how to understand math in an individual setting; our unique approach enables us to explain concepts really well and lend a helping hand to every student. Our tutors foster a caring, encouraging environment that helps kids thrive and learn! Read below to learn more about our talented team:
Brigitte
While ending a successful career with the top Accounting firms, Deloitte LLP and Andersen LLP, Brigitte welcomed the opportunity to serve as a math instructor at Mathnasium. Brigitte enjoys connecting with young students in developing their math foundation, mastering computation and problem solving with whole and rational numbers, and understanding number sense.
Her greatest satisfaction comes from seeing a child's confidence grow as they develop the necessary mathematical skills to be successful in their academic endeavors, possibly even helping to create our future accountants. Committed to the teaching methodology designed exclusively by Mathnasium, Brigitte's daughter has been enrolled in the program at the Point Loma center for the past 5 years and has seen first hand the success in her daughter's advancement and grades in math.
Deanna
Deanna has had a love of working with children all her life. Deanna currently is an undergraduate at the University of California San Diego, studying Education Science and a minor in Philosophy. She is also hoping to pursue a Master's in Education too. In her free time, you can see Deanna hiking, reading, making the most awesome crafts, and shopping around town.
Ever since elementary school, Deanna has always known she wanted to become a teacher. It wasn't until middle school that she realized what kind of teacher she wanted to be. Her teachers have influenced her inside and outside of the classroom and she hopes to influence others in the same way!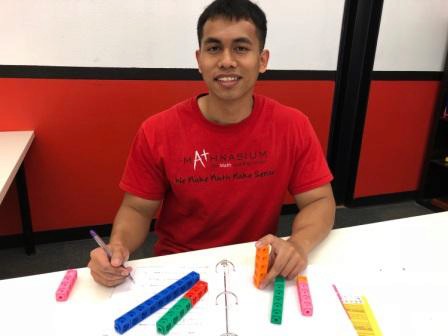 Derrell
Derrell was born and raised in southern California in a small town called Redlands and is currently pursuing a bachelors degree in Aeronautical Engineering at San Diego State University. Derrell has a significant adoration and appreciation for the topic of mathematics as a translation tool for the world around him. When not in the Center, at school or studying, his hobbies include hiking, watching sports, and playing video games. Derrell's dream is to someday design aircraft capable of both space and aviation flight. Until that time, Derrell enjoys sharing his mathematical knowledge, tips, and tricks with students at every level and Mathnasium is the ideal outlet for providing all of the tools necessary for student success. His goal is not only to instruct students, but to convince them that the topic of mathematics is a fun and fascinating subject worth exploring.
Debra
Debra has a Bachelor's degree in Teacher Education from The Master's University. She is currently working on her Multiple Subjects teaching credential with Point Loma Nazarene University. Teaching has always been a passion of hers, and she is beyond excited to be running her own classroom soon.
She dreams of creating her own children's books and going overseas to teach abroad. She understands math to be a difficult concept and loves the moment when it finally clicks for a student. More than just teaching students to understand math, she wants to show them how they can use it to explore the world we live in. In her free time, Debra loves to paint, read, play video games, and go to the beach with her dog, Tesla.
Grace
Grace is originally from Phoenix, Arizona, where she worked at a different Mathnasium center before moving to San Diego to attend college. Currently, Grace is a freshman at the University of San Diego. She is on the pre-physical therapy pathway, majoring in anthropology and minoring in biomedical ethics. Grace has danced throughout her life and is on the university's dance team, Go Toreros!
Grace has always enjoyed math, taking up to calculus courses in high school. She greatly enjoys working with kids and seeing them light up when they understand a math problem. Grace loves working at Mathnasium where she gets to help grow student's confidence in their math abilities.
Huyen
Huyen is currently a senior at UCSD and is pursuing a bachelor's degree in Probability and Statistics. She not only has a great love of Math, but also inspiring people to learn Math. She is excited to be working with the students at Mathnasium and helping them to see that math is a powerful tool that is not hard to learn. Huyen loves to see how students each have their own creative ways to perceive math concepts and enjoys providing ideas to the students so that they can understand math problems better and easier.
In her free time, Huyen likes to practice calligraphy, go camping, read books, and watch movies. She also enjoys eating the diversified food that Southern California offers.
Jonathan
Jonathan graduated with a Bachelor's degree in Applied Mathematics from San Diego State University. While he tutors here at Mathnasium, he is also working towards a career in software development in the financial sector. He loves to tutor students since he loves to teach and talk about mathematics. In his spare time, he enjoys recording and composing music.
He hopes to inspire students to shoot for the stars and to not be afriad of aiming high. Moreover, Jonathan wants to help instill confidence in students' ability to problem solve.
Kendall
Kendall was born and raised in Wisconsin and is currently living in San Diego, pursuing a degree in Elementary Education through Point Loma Nazarene University. She will be student teaching in the spring and loves that mathnasium has offered her an opportunity to practice working with kids on the subject of math.
She grew up always enjoying math but she recognizes that's not the case for many kids. Kendall hopes to make math click & be more enjoyable for those who come to mathnasium. Outside of school and work, she loves playing sports and spending time with friends.
Lulu
Louisa has a bachelor's degree in physics with a strong math background from Cal Poly Pomona. She is also in the process of obtaining her master's degree in education for teaching math and physics. Right now, she is doing student teaching in La Jolla Country Day School. She is obsessed with the glamour of learning the underlying reasons behind what seems like common sense as well as what seems impossible. It is especially rewarding for her to see students she helped eventually understand what they previously had not.
Outside of Mathnasium, she is an expert "foodie" and enjoys trying all different kinds of food. Her hobbies are reading books and playing the piano when she needs time to relax. Her favorite books are "Gone with the Wind", "Les Miserables" and "The Hunchback of Notre Dame".
Mike
Mike is a graduate from University California Santa Barbara, with a bachelors in mechanical engineering. Math has always been a strong subject for Mike, but teaching students Math brings with it new and exciting challenges that enable Mike to share his expertise with the younger generation. Each student comes into the center with a different mindset and it is a thrill to tailor explanations to each child to see them learn and grow in their own time.
He hopes that Mathnasium is a place where each student can remove stress and be comfortable to develop their math skills. Outside the math center, he enjoys yoga, listening to folk music, and making fun beats on the keyboard.
Robert P.
Robert is a San Diego State University alumnus with a Bachelor's degree in Biology. He began tutoring middle school students in mathematics and robotics back when he was in high school. Robert tailors his explanations of math concepts around the interests and hobbies of his students so that the ideas are easier for them to visualize and reflect on.
In his spare time, Robert studies the history and culture of the Kumeyaay, an indigenous people of San Diego. He has studied the mathematics used by the Kumeyaay as well, did you know that the Kumeyaay originally used a base-five numeral system?
Tamara
Tamara enjoys being a part of the learning experience. She feels it is very rewarding to witness a student's moment of sudden insight when they learn a new concept. She is excited to be working with the students at Mathnasium and experience many of these moments.
She currently attends UCSD and is pursuing a degree in chemical engineering. She also enjoys listening to and playing sonatinas on the piano.
Toloue
As a current senior at Point Loma High School, Toloue takes Calculus II as dual-enrollment and appreciates the mathematical beauty that is concealed within its complexity. Upon graduating, she plans to major in Applied Mathematics at UC Berkeley, where she also hopes to pursue other passions.
In continuing on her path at Mathnasium, she aspires to inspire and reinforce the value of hard work, through which almost anything is attainable.
Valeria
Valeria has always loved math because "it just makes sense, and it is very precise." She also enjoys helping others understand and love math as much as she does. Helping someone understand math is something that she really enjoys doing.
Outside of Mathnasium, Valeria plays water polo and loves to swim in general. She also loves watching movies and listening to all sorts of music. She loves being in San Diego and hopes to stay local by attending UCSD.