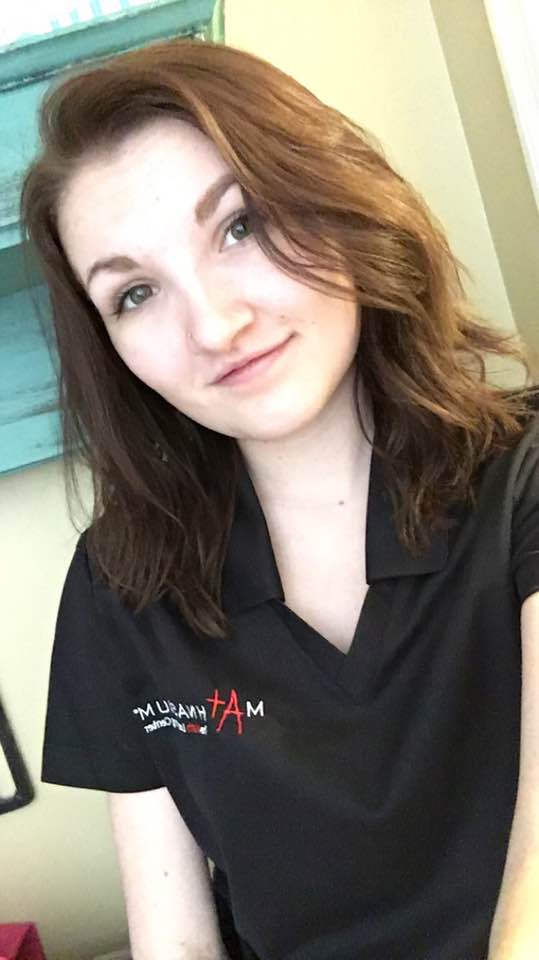 Macy Reed
Center Director
Macy Reed was the first Center Director at Mathnasium of St Peters North until she passed away on November 7, 2019. Macy was my daughter, an extraordinary Center Director, a caring instructor to the children, and a wonderful human being. The outpouring of support and fondness fills my family's hearts (Janet – Mother/Wife, Abby, daughter/sister and me).
Macy became the Center Director for Mathnasium in 2017 and worked hard to enrich children's lives through math. She was very caring, and the younger students, in particular, adored her. She was always finding new ways to entertain and teach them. She also interacted well with the parents, many of whom were very complimentary of her maturity and knowledge.
Macy was born with cystic fibrosis, a genetic terminal illness. It is not contagious, so it is not a disease that can be shared with others. For more information visit https://www.cff.org/What-is-CF/About-Cystic-Fibrosis/.
As I was researching Mathnasium, I told Macy about my plans and that I'd like to open a second location some day for her to run, perhaps in Kansas City where she was living. She investigated the opportunity and decided she wanted to get involved immediately. She believed strongly in Mathnasium and wanted this to be her career and someday run a center on her own.
She was bright and skilled. We worked well together. We divided responsibilities according to our strengths and we made families happy and improved student's math scores and confidence.
Macy lived her entire life knowing that she may not have a long life, so she chose to make it a rich life and not let CF define her. Therefore, few people had any idea she had it. Macy fought hard to keep her lungs healthy. She really struggled for a few years, but then a miracle drug was released and it was absolutely life changing. For two months – Sept-Nov 2019- Macy improved every day and became more active, more like a 23-year-old. Although she was always known for her smile and outlook, it was obvious she finally felt great and was gaining confidence in her long-term livelihood.
Suddenly and tragically, Macy passed away from a traumatic pneumo-thorax wherein air in her chest cavity collapsed her lung and put pressure on her heart. She fought bravely for four days, but in the end, severe brain damage and the effects of CF were too much to overcome. Macy was an organ donor and parts of her will be used to save or enrich other people's lives.
Our hearts will never be the same, but we are all better people for having loved Macy.
She is forever a part of the center. We will use use her name as motivation for the students reminding them that Macy wanted to see them succeed! Once a month, we will have a special day named after her – Macy Day – that will be motivating, rewarding, and entertaining for the students.
Fun Fact: Macy has a dog named Penny, the "MATH"-scot, who was adopted as the "Grandpuppy" by David and Janet ;)