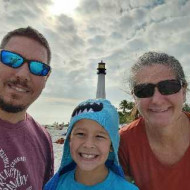 Jennifer Speer
Owner
Jennifer has a unique perspective that allows her to understand your kids and help them.
She is a successful business owner and homeschooling mom of 3! She has the perspective of an educator as well as a busy parent and knows the challenges of both. Jennifer knows how to engage the kids and hold their interest. She keeps them progressing in math in a way they will actually enjoy!
Jennifer has always had a strong grip on Mathematics, earning her B.B.A in Finance at Southwest Texas State University and then owning and operating a successful business for over 10 years in the Brazos Valley alongside her husband James.
After finding Mathnasium and seeing what it can offer kids, they made a tough decision to sell their successful business with its comfortable lifestyle and start all over again. As scary as that sounds, they knew that parents in the Brazos Valley wanted the best for their children at an affordable price. There was already so much available for the many college students in Bryan/College Station, but not for elementary, middle, and high school students. Now, after being open for several years and expanding to multiple locations, we have hundreds of amazing success stories as a result of our passionate instructors, inspiring learning environment, teaching style and curriculum at Mathnasium! Let us help your student! 
Favorite Math Joke: There are 3 kinds of people in this world... Those who can count, and those who can't.
Fun Fact: Graduated college in 3 1/2 years with a 4.0!
I love Mathnasium because: I get to be a part of a great organization that changes kids' lives! Who wouldn't want to be a part of that?!?